The law requires that that every vehicle that is driven on the road is keep it in a roadworthy condition at all times. Once a year it is required that you have a Vehicle Check to ensure road and environmental safety.
The first MOT Test is required once the car is three years old. The MOT looks at important items on your car to guarantee they meet the legal and minimal requirements to be deemed road worthy. However, MOT requirements are not a minimum standard that you should bring your car up to once a year but should be a year-round standard.
There are hundreds of questions and concerns that you might have when you are taking your car for an MOT Check. Here are common MOT FAQs:
Where do I get an MOT Check?
There are roughly 21,000 garages in the UK authorized as MOT test stations. They can be identified by the blue three triangles logo. The maximum fee for the MOT check must be displayed on the inside of every test station.
When do I need to get my car MOT tested?
Cars (and motorbikes) and light goods vehicles need an MOT test once they are 3 years old and once every year after that. You can get your MOT test up to one month before the previous one expires. It's your responsibility to have a valid MOT certificate.
What are MOT classes?
MOT prices vary depending on the type of class your vehicle falls under. MOT classes are dependent on your engine cc and Design Gross Weight (DGW). The DGW is the most important factor in determining what class your vehicle comes under. There are 7 MOT classes, 1 having the lowest DGW and 7 with the highest. The manufacturer sets the class of your vehicle. It's important that you know the class of your vehicle because MOT centres specialize in particular vehicles. If your car is in a higher class then it is even more important to take your car for an MOT check at a specialist.
Can I get a replacement MOT certificate?
Yes. If you lose or damage your previous MOT certificate, you can get a replace issued at a UK testing centre once they Check MOT History. By simply taking your car and driving license to a testing center or providing the certificate number or the cars unique vehicle registration certificate. There may be a fee of £10 to a replacement.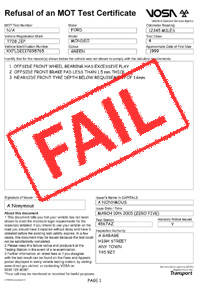 What happens if my car fails the MOT check?
If you car fails and the examiner labels it not roadworthy then you are not allowed to drive the car until the issues have been fixed.  However, if the problems are not that severe such as headlight aim or emissions then you can continue driving the car until the MOT certificate expires and have the car repaired elsewhere. Most car garages offer a free retest so it is recommended you use the same garage that you have already used. The other benefit of using the same garage is that they will likely fix your car and then re-test it. You can take the car to a different garage but will have to pay the full fee.
My car passed but with 'advisory points', what does this mean?
Advisory points are factors that the MOT tester has found that will need work on before the next MOT test. It gives you the chance to repair the problems before they are severe, dangerous and fail to meet an MOT check. This will also help save you on repair cost.
I think my car has incorrectly failed, what can I do?
If your car has failed the MOT test but you do not agree with the results, you can appeal. You will need to fill in the VT17 form. The form is available at any MOT test centre. Then contact VOSA within 14 working days of the failed test. VOSA will then arrange a car check within 5 days. You'll have to pay another MOT test fee but it can be refunded.
If your car has passed but you think that it is not road worthy, you can inform VOSA as soon as possible. VOSA will carry out a free check if you contact I within 28 days or 3 months for corrosion.
What do I take to the MOT?
There is not much that you need to bring to an MOT check. MOT centres don't usually ask to see an expired certificate, although it doesn't hurt to have it. You will have to leave your car keys with the garage. Always bring a driving license or form of ID to prove the car is yours, but they will also verify this via a Car Reg Checker. In addition to what you should bring, don't forget about the things that you shouldn't. Clean out the boot before you take the car because they will need to check the boots floor.